At the Wood Boat Brewery, we have a passion for crafting on the finest beers, using only quality ingredients. Currently there are four local farms growing hops and barley just for us. The majority of our hop and a minimum of 20% of our malt is produced here in New York State. Barely production in NY is increasing and ultimately the goal is to produce our beer entirely from New York State products.
We love our beer and hope you do too. CHEERS!
NEW! River Rye
This rye based pale ale is smooth, aromatic and casually delicious with an easy finish.
NEW! Bow Light Pilsner
This beer is designed with the domestic beer drinkers in mind! If you don't consider yourself a craft beer drinker but still appreciate a crisp beer made with the highest quality ingredients, give our lightest brew on tap a try!
"Old Town" Oatmeal Stout
---
This is a great introductory stout. Not overly rich, but enough robust flavor and deep malty tones to please any seasoned enjoyer of the stout variety.
"Pardon Me" Pale Ale
---
A slightly-less-than-pale ale. Caramel and chocolate malt notes balanced out by a light hops bitterness.
"White Cap" Milk Stout
---
Made with lactose sugar (lactose free!). Smooth, creamy, medium malted stout. Pronounced notes of coffee and dark chocolate, but bright and fresh enough to have another!
"Channel Marker" IPA
---
Our Flagship IPA's crisp, citrus forward marries wonderfully with the 100% centennial dry-hopped finish. Mild malt with a heavily floral nose.
Bourbon Barrel Aged Brown Ale
---
An aged ale with a bourbon nose, a sweet, heavy malt, hints of clove and cinnamon, and a vanilla finish. Bottom served in a 12 oz glass. $8
"Hook, Line and Sinker" 2X IPA
---
Our Double-Hopped IPA offers a complex, hop flavor, and a light to medium malt subdues some of the bitterness. "She'll Grab Ya!" – Terry Augliano
"Lyman" Light Ale
---
Our clean and crisp blonde ale is mildly malty with a full mouth feel. Not your average American light beer. Don't fret, theres no "Lime in" this beer. It shares a name with the world famous wooden boat manufacturer.
NYS Hard Cider
---
Unfiltered cider made from local apples and ale yeast. Effervescent honey notes up front, balanced with a tart, semi-dry finish.
Cherry Wheat
---
Light wheat ale, unhooked and slightly sour. An invigorating combination of sweet and tangy.
Ask Your Server About Our Seasonal Brews!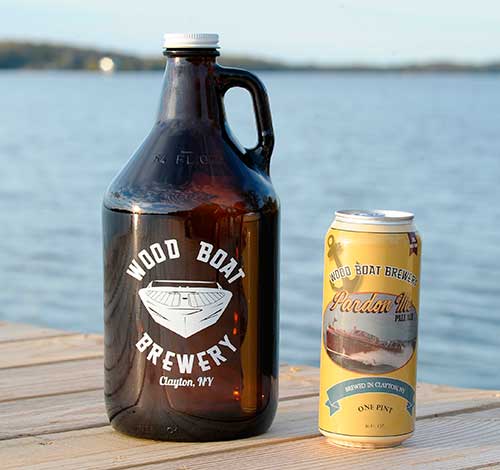 Love One of Our Brews So Much You Want To Take It Home?
Our growlers are 64oz and can be filled with any of the Crafts on Draft for $20.00! Just purchase the glass for $12.00, choose your brew to take home, and enjoy!
(Tax not included. Pricing different for the Bourbon Barrel Aged Ale)
Stop In For Growler Wednesday Every Week!
Bring back your growler and fill it for $15.00!
Channel Marker, Pardon Me, Cherry Wheat & Old Town Oatmeal Stout 4 Packs
Also available to take home or out on the River
---
---
---