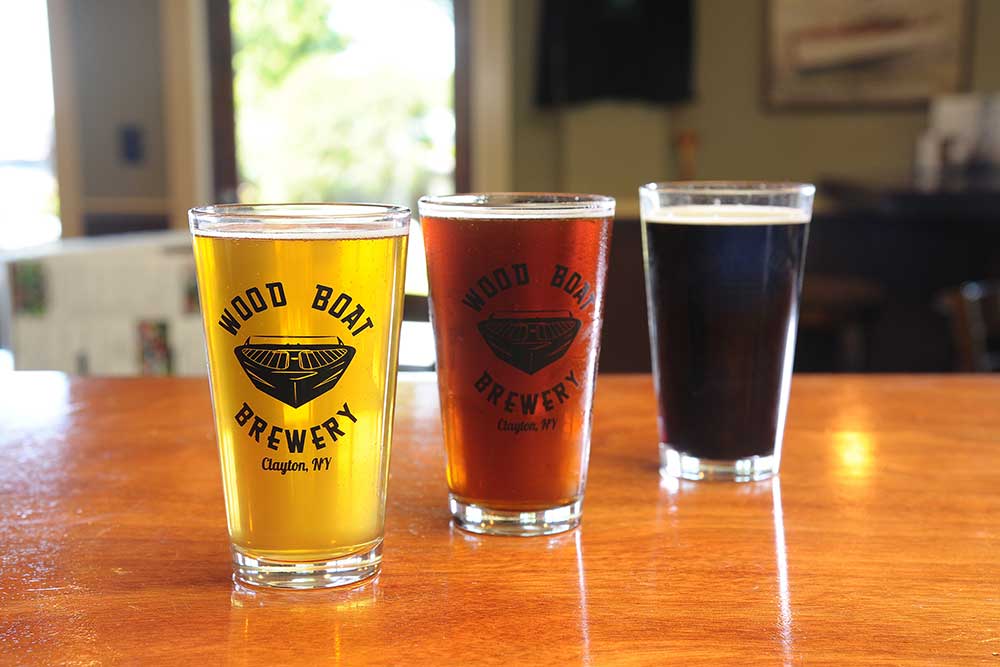 At the Wood Boat Brewery, we have a passion for crafting on the finest beers, using only quality ingredients.  Currently there are four local farms growing hops and barley just for us.  The majority of our hop and a minimum of 20% of our malt is produced here in New York State.  Barely production in NY is increasing and ultimately the goal is to produce our beer entirely from New York State products.
We love our beer and hope you do too. CHEERS!
Love One of Our Brews So Much You Want To Take It Home?
---
Our growlers are 64oz and can be filled with any of the Crafts on Draft for $15.00! Just purchase the glass for $12.00, choose your brew to take home, and enjoy!
(Tax not included. Pricing different for the Bourbon Barrel Aged Ale)
Stop In For Growler Wednesday Every Week!
---
Bring back your growler and fill it for $10.00!
Channel Marker, Pardon Me, Cherry Wheat & Old Town Oatmeal Stout 4 Packs
---
Also available to take home or out on the River
Pardon Me Pale Ale – 5.0% ABV
---
Named after the famous boat Pardon Me. Built in 1947, it is the largest wooden runabout in the world and can be found at the Antique Boat Museum here in Clayton.  Like its name sake, the Pardon Me Ale is rich and smooth.  This medium bodied ale has full bodied flavor that is reflected in its warm amber color, with a hint of caramel.  Pardon Me Pale Ale is brewed with five malts and has three hop additions using two hop varieties.  Refreshing and Rich!
Channel Marker IPA – 7.3% ABV
---
After a few of our IPAs you may need the Rivers channel markers to navigate you home!  Channel Marker IPA is decidedly hoppy and bitter brew with a complex malt characteristic.  It is made using five malts and has seven hop additions using two hop varieties. Hoppy and Happy!
White Cap Milk Stout – 4.6% ABV
---
This brew's foamy head resembles the white caps on the rolling waves found in our great St. Lawrence River on a blustery day.  The White Cap Milk Stout is a very dark, full bodied, slightly roasted flavor, brewed with milk sugar to bring out its sweet side.  This beer has four malts and two hop additions. Unreal Smoothness!
Old Town Oatmeal Stout – 4.7% ABV
---
Named after the beautiful canoes and paddles found along the shores of the St. Lawrence River and beyond.  Old Town Canoe Co. constructed their first canoe in 1898.  Like its name sake, Old Town Oatmeal Stout is made with an eye for detail and a passion for quality.  It is a dark, full bodied roasted malt, brewed with oatmeal flavor and a touch of sweetness.  Made with five malts and three hop additions using two hop varieties.  Dark and Delicious!
Lyman Light Ale – 5.2%
---
Named after the gorgeous Lyman boats, famous for their mastery of the rugged chop of the water, this light and refreshing blonde ale will go down as smooth as a Lyman boat through the roughest river.  It has a mild malt characteristic and it's easy on the hops.  Clean and Crisp!
Seasonal Beers
---
We offer 8 additional seasonal brews on tap year round. Try a beer flight to sample them!